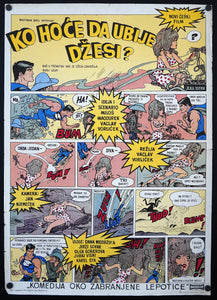 Extremely rare Yugoslavian version of Czechoslovakian Sci-fi Comics Comedy Who Wants To Kill Jessie? Kaja Saudek Art!

DATE: 1966
SIZE APPROX: Large Yugoslavian 27,5X19,5inch (69,5X50 cm)
MOVIE ORIGIN: Czechoslovakia
POSTER DESIGN: Karel Saudek
ORIGINAL TITLE: Kdo chce zabit Jessii?
DIRECTOR: Karel Vorlicek
FOLDS: The poster has been previously folded
PINHOLES: No
CONDITION: Very Good with some tears along the edges and some paper loss in one of the corners.