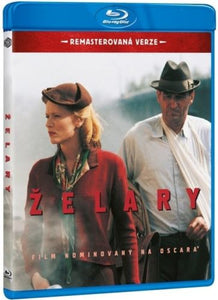 Zelary Czech WWII. drama on Blu-ray with german and english subtitles.

In the period of German occupation and the Protectorate (40's) a young Eliska works as a nurse in a hospital. She is involved in a local resistance. One night they bring to the hospital a seriously injured man Joza, villager from remote border mountains and only her blood type could save him.
The resistance group is chased by the Gestapo and Eliska has to disappear before they'll kill her. Patient Joza agrees to hide her away in his wooden cottage in the mountain village where the time stopped hundred and fifty years ago.

BLU-RAY
Length 142 min.
Production Year 2003
Audio Czech, German
Subtitles English, German, Czech
Format BLU-RAY
Region ALL

Director Ondrej Trojan
Cast Ana Geislerová, György Cserhalmi, Ivan Trojan, Jaroslava Adamova, Zita Kabatova, Svatopluk Benes, Miroslav Donutil, Jaroslav Dusek, Jan Triska, Michael Hofbauer, Jan Hrusinsky

Note for US costumers: It might not play on some US DVD players, Multi-Region and Multisystem PAL/NTSC DVD player is required, Please check your DVD player compatibility.